Laura (A Girl Called Boz) is a brilliant artist who, among many other pretty goodies, made the brilliant Doctor Who theme stitch markers in my etsy store at the moment. Using computer graphics and plastic as a creative medium, Laura creates some brilliant earrings, cufflinks and great other bits & pieces for her store (I might have the bunny earrings...)
Hi!
Thanks for inviting me over for a cuppa and cake. I love that you call it a cuppa. Where I come from (North East England) they call it a cuppa, but over here where I'm living now (North West) they call it a brew! My family get most confused if I offer them a brew before midday, to them a brew is a beer!
1. Helloo! You mention a love for graphic novels, what's your favourite?
When I say I love graphic novels its like a subtle way of letting the internet know I'm a geek. I love all sorts of nerdy things like sci-fi movies, fantasy books and role playing games. I do love a good comic though. My favourite at the moment is Gotham City Sirens. It's part of the Batman franchise and revolves around the three main female characters, Harley Quinn, Poison Ivy and Catwoman. I was so excited to find a graphic novel with three of my favourite female characters as the protagonists.
2. When did you start creating these wonderful little bits and pieces of jewellery?
I decided to start making and selling my own jewellery pieces in university. Unfortunately, real life got in the way and I had to find a boring full time job to pay the bills. Last July I decided I was settled enough in a boring job that I needed a creative outlet and set about crafting. One day I just decided I needed to start work on my own creative business. Even though I was still working full time I fit the creating and marketing in the evenings and A Girl Called Boz
was born. It isnt the dream job I wanted in uni, but its the start of something amazing.
3. Your favourite cuppa & cake?
Oh I've just come off a diet so I feel spoilt for choice at the moment. I love a good cup of tea. Two sugars and a splash of milk please. Blueberry muffins are always nice, or something chocolatey. I've got a really sweet tooth!
4. I particularly love the shrink plastic animals, where did you get the inspiration for these and is creating them a difficult process?
I follow a lot of illustrators on twitter that inspire me. People like Jam Grantham (@1985jam) and Stacie Swift (@Stacie_swift). One day I decided I wanted to learn how to draw using a computer program and just started having a go at it. When I'd done a few of them I discovered shrink plastic. The plastic is perfect for earrings but it doesnt make very good necklaces because its so light. Currently I shrink each piece by hand using a heat gun but I plan to try using an oven to make the process faster.
5. Are you from an arty background, or is this something you picked up later?
I am from an arty background. I studied fine art at college, then applied art at university. I've always loved making things for myself and for other people and I can't imagine living a life where art or craft wasn't a part of it. If I didnt have A Girl Called Boz
to keep me busy I'd be making furnishings for my home or planning Christmas presents for the family.
6. Anything we excited fans should know about?!
Well I've just started selling cufflinks in the shop so theres now even more ways to wear your favourite animals. Im excited to extend the range so that there are more choices for men. I have also got a new line in the planning stages at the moment which is tea party themed. And I plan to make the animal faces into temporary tattoos too. I'll update the blog and facebook as soon as there's more details.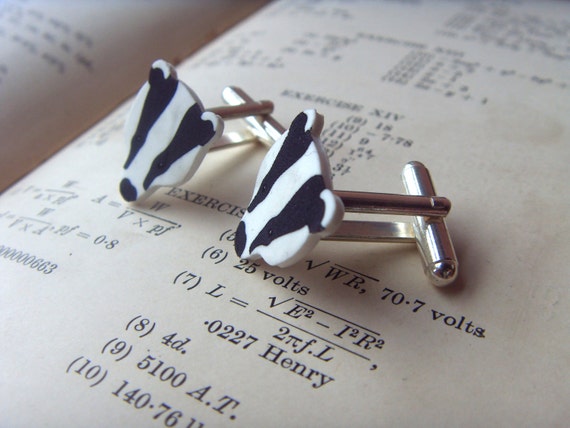 Thanks for having me over for virtual tea and cake. It was lots of fun!
Take care,
Laura,
aka A Girl CalledBoz.
You can visit Laura's shop here: https://www.etsy.com/uk/shop/AGirlCalledBoz?ref=owlprintpanda
blog here:
http://agirlcalledboz.blogspot.co.uk/
and follow her on twitter:@agirlcalledboz
and facebook!:
www.facebook.com/agirlcalledboz
And if you're a knitter, the stitch marker versions can be found here :)