Hello Lovelies!
After showing you all those amazing little earrings in the "11 Perfect little Earrings" feature, I couldn't help but drop by and chat with the amazing curator and artist behind When Adam Met Eve.
Karen lives in Perth, Western Australia. She's a self taught crafter with a background in graphic design; often described as quirky and with a love for animals and nature, this probably translates into some of the jewellery she designs! Karen pleads guilty to impulse purchasing - which she claims has probably led to designing jewellery as a means to curb her spending on costume jewellery.
She has some lovely items (with some lovely pictures!) for sale in her etsy store, here are my favourites
: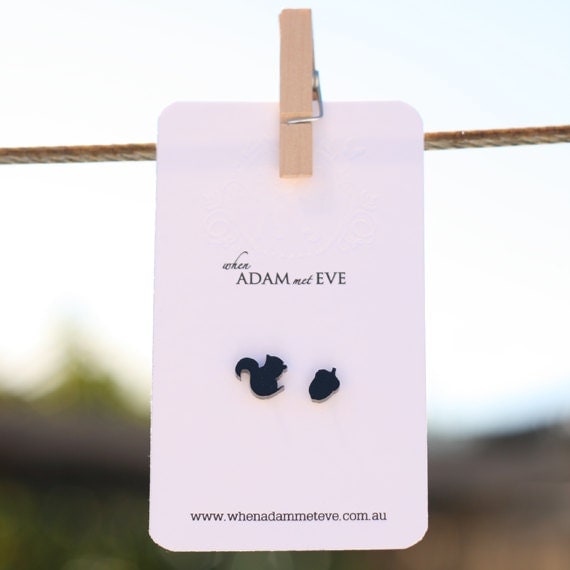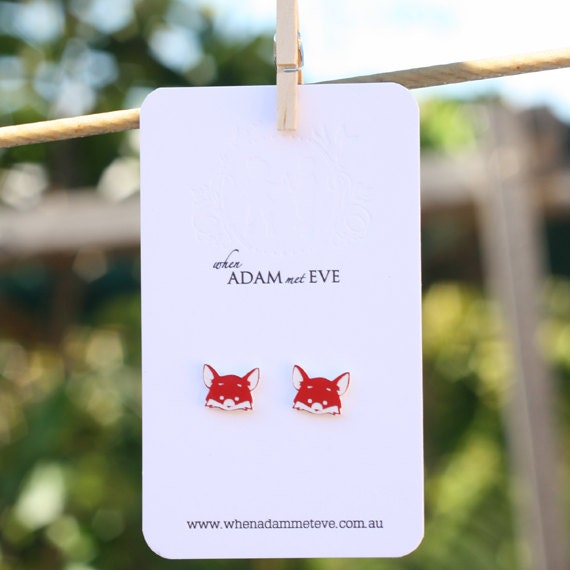 EEeeeeep They are so cute. I should stop 'eep'ing. I 'eep' far too often.
1. Such cute earrings! When did you start making these little beauties, and how did it all begin?
I started making jewellery around April last year mainly because I am a self confessed shopaholic and by chance I saw laser cut earrings on a random google search and loved the idea so thought I would give it a go. So my very first pair I created was the little boy and girl from my logo. Once I saw them made up, I got a little carried away and started doing different designs and it just kept growing and growing from there. Once I had about 20 different pairs of earrings I thought it may be worthwhile to see how I would do selling at markets and online but couldn't just sell earrings so got into making necklaces also. .
2. I love the foxes, no the squirrels, no the bambi! Oh my goodness I just spotted pandas... Ahh there's so much choice, what's your favourite item in your shop?
Its hard to say what my favourite are as I am constantly designing new earrings which then become my favourite. A lot of the pieces are inspired by nature with almost any animal you can think of. I also like the idea of it being asymmetrical so many of the pieces will be different on each ear lobe - ie a dog and a cat or a squirrel with an acorn.
When I design the different pieces I am often thinking of a friend of family member that would like it so each different piece is inspired by different people around me. For instance with the necklace range, the travel ones were inspired by my sister who has the travel bug and has recently left for South America. The little bottle was added so I could write her a message that she could read while on her travels.

3. Your Cuppa & Cake of choice?
Hmm I love a good latte or hot chocolate with marshmallows on the side and carrot cake! But if I eat mud cake the I must have a glass of cold milk on the side (its pretty embarrassing when I am at a restaurant ordering a glass of milk with my chocolate cake)

4. What is your crafting space like?
Most of the time its an organised mess! I have attached a picture. The two top shots are what it looks like when its nice and clean but it ends up looking more like the bottom image by the end of it.
5. Where are you when you're not making such pretty pieces of jewellery?
I am a graphic designer normally so if I'm not making jewellery then im designing corporate identities, wedding invitations, designing ads etc for different businesses.
I'm so in love with all of these earrings. I may have to bag myself a few pairs. Do you have a favourite item of jewellery? Where did it come from?