This lovely lady and her gorgeous shop have kept me occupied all week since her brilliant fluff arrived through my door!
Deborah (of
FondantFibre
) is a true queen of her craft, with each and every item in her store prepared from start to finish for the sole purpose of a love of fleece (and for you, of course!).
At the moment, any purchase made from Deborah's shop will enter you into a monthly prize draw to win a surprise package of fluffy gorgeousness! More
details can be found on her blog here
.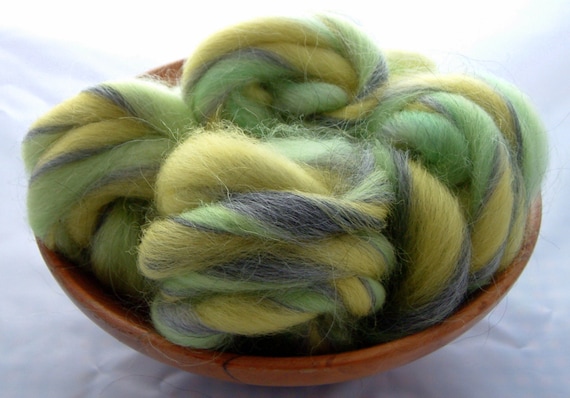 1. Hello! What have you been up to this morning?

Hello to you Amanda! I always get up early and start the day with a coffee and a little spin on my Wee Peggy.
I then packed up my orders and did the post office run, did a little networking (Ravely of course) then updated my shop with the weekends work.


2. When did you begin to dye your own fleece and what inspired you to do so?

I learnt to spin a few years ago and although there are some incredible indie dyers out there I found that I really enjoyed the whole process of preparing fleece straight from the sheep back. My creative side blossomed and I felt so compelled to put all the ideas in my head onto fibre.
As you can imagine I found myself knee deep in prepped fibre and hand painted tops, far too much for me to spin in this lifetime so I decided to share it by opening my Etsy store.


3. Do you have a favourite fibre to work with? And those colours! You must have combinations you're tempted to use over and over again?

I don't really have a favourite but do have my little comfort zones…..my special blend "Norboo" (Norwegian and bamboo) is such a joy to dye and spin so this is my "go to" fibre. I only use the best fleece I can get my hands on (fibre snob? Moi?) and can spend hours combing or carding without getting bored!
As for colours, yes I am always drawn to purple but just love rainbow combinations!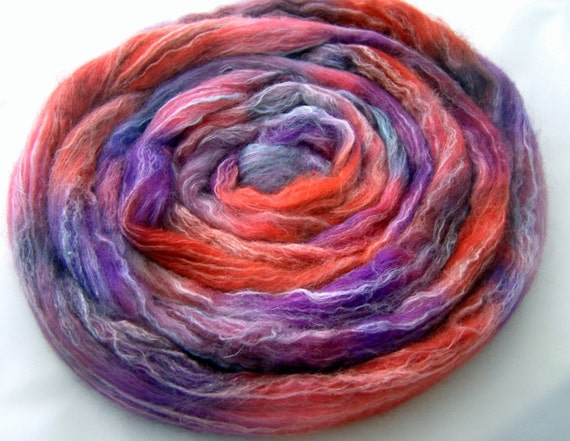 Delicious 'Norboo' in Berry colourway


4. Have you always used the same dyeing method or have you been able to refine it over time?

When I first started dyeing for myself I used food colouring and used the microwave to set it! In a very short time I found lots of fun ways to experiment and get the perfect combination of top quality fibre with a variety of colour ways and techniques. I still love to play and my Etsy shop will see some new and exciting fibre preps very soon.


5. With all this lovely dyeing, do you find the time to spin and knit up your own projects? What's your most recent cast on?

For me dyeing and preparing fleece is my first love. Of course I have to do my own quality control and love to sample spin my wares before they are put in my shop.
I don't have much time for knitting large projects so I use all my samples in my ongoing 10 stitch knitted blanket


6. Finally, what's your favourite cuppa & cake?

I have just treated myself to a cappuccino maker which I am determined to make the perfect froth with! Cake….well it has to be a huge slice of carrot cake because it has one of my 5 a day hahahaha
Thanks for inviting me to your cuppa & cake soiree, it was so much fun!
Deborah can also be found:
Shop: http://www.fondantfibre.com/
Twitter: https://twitter.com/fondantfibre
Blog: http://fondantfibre.wordpress.com/
Ravelry: http://www.ravelry.com/people/fondantfibre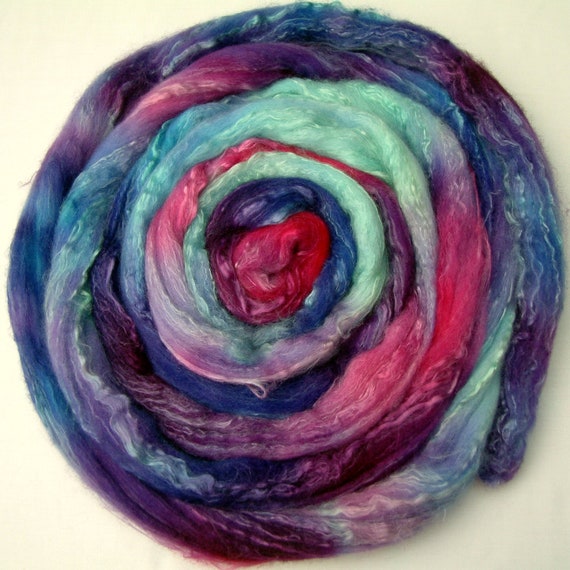 Earlier this week, I bought some lovely superwash cheviot fleece from Deborah, which I maaaaay have spent all night turning into 400m of veeery pretty fingering weight singles. Dreamy to spin, I love purple too!
EDIT: This lovely purple has been turned into a shawl now!
Go peek
:)
Do you dye or spin? What was your most recent project? Show me your lovely pictures so I can do some yarn drooling :):) If you pop links in my comment box I'd love to nosey!
Do you want to join us for a Cuppa & Cake? Email me :)