Kelly, of Kelly Connor Designs, popped over for imaginary cake! Whilst she was here, she offered OwlPrintPanda readers 10% discount - isn't she lovely!
I don't know about you, but I may have a gazillion couple of different knitting projects on the go at once. These funny little pop culture tote bags do make me smile, and they're useful *nods*. Do you need to justify buying more knitting accessories? Bags are a necessity, they keep your house tidy *nods wisely*...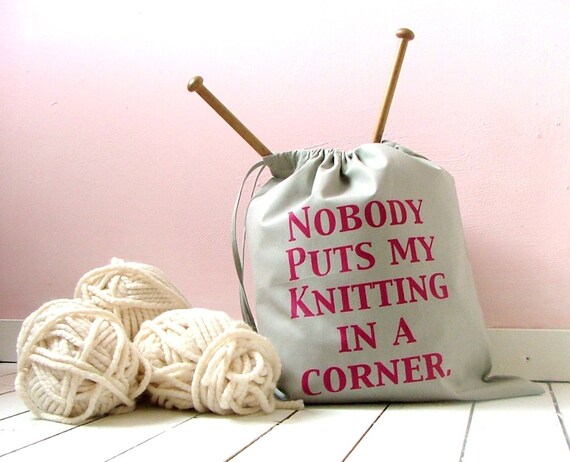 The discount for us will run until the end of May, and you can claim it by heading on over to Kelly's etsy store and using the code OPPDISCOUNT :D Hurrah!
1. Hello! Have you had a busy weekend?
Hi there! I have actually had the quietest weekend for ages. I have had the house to myself - a very rare occurance:) This Saturday I beat the clock to get to the post office before it closes at midday. I worked on some designs and layouts for some new bags I'm developing, with trash tv on in the background. Bliss!

2. Your bags :o I want each and every one of them! Which is your own personal favourite? (The 'my-stash' one is most definitely my favourite :D.. or is it 'I like big balls'... )
My all time favourite bags are the 'Nobody Puts My Knitting in a corner' and 'My Precious'.
At the moment, probably because it's new, I like the 'Bad Mother Knitter' one. I have been watching the Pulp Fiction Clip where Jackson is in a diner, asking at gun point for his wallet, he is asked which one and he says the 'the one that says Bad Mother ........' The scene is just such an odd combination of literalism, grisliness and purility that it cracks me up.
Ooh, and I love the 'I Bloody love knitting one' because it is so understated and British!
3. Your biography on Etsy explains you started making the bags for your own use, what prompted you to share them with the world?
I love being on Etsy. It has been a brilliant platform for me. It is accessible and affordable and has given me the chance to make my own opportunities! I decided to start selling on Etsy because my life changed about three years ago and it provided me with the opportunity to work from home and have a voice inspite of working within some significant personal limitations.
It has put me in touch with people all over the world and it is great to be able to share the love with people that enjoy the same inspirations that I do.
4. If I could magically send you a cup and a cake, whadda you want??
At our get together I would defo have an espresso with a very naughty chocolate brownie, that is a bit gooey in the middle. mmm!
5. What can we find you doing when you're not planning funny new knitting bits & pieces?
My spare time is limited; I'm lucky I get such a buzz from working. I have just launched my own website, which has kept me busy and I'm still tweaking it, if you'd like to have a peek it's www.knittingbagsandgifts.com.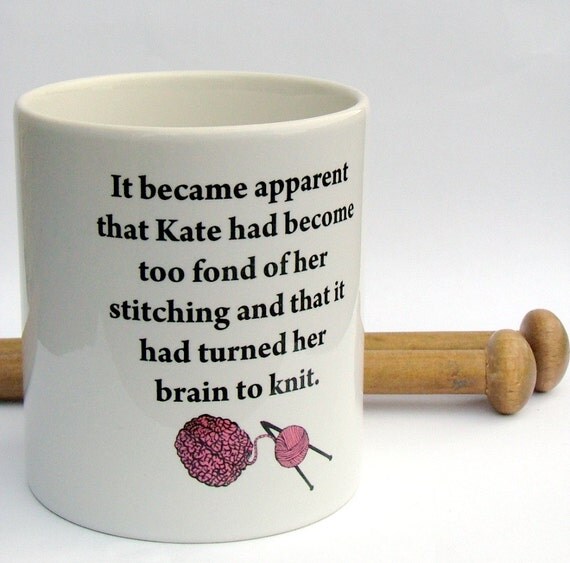 If you'd like to drop by for a chat, send me an email!